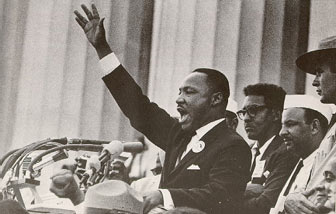 Have you ever heard of the "A cancelled check" speech?
Dr. Martin Luther King jr. did. That was the name of the speech he gave on the steps of the Lincoln Memorial on August 28, 1963. You might also recognize this speech under it's more common title: I have a dream.
I have a dream.
How many accolades can we give this title?
A phrase that:
changed the world
inspired generations to come
belongs at the pinnacle of American ideology & rhetoric.
And yet, the most fascinating thing of this speech is what we DON'T see.
I don't believe that Martin Luther King jr. woke up that morning and said "Today, I am going to change the world forever."
For all that we attribute to the speech & its collateral effects, NONE of what it accomplished was a product of intention. None of it was planned or scripted. Indeed, the 'I have a dream' portion of the speech was not even part of the draft Martin Luther King had in front of him. He "winged" that part.
Martin Luther King jr. did not plan to the change the world. He did not even plan to utter the words 'I have a dream'. But he ended up doing both, simply because he placed every single ounce of his faith, effort, & conviction behind what he felt most passionate about.
And by that I end, I suppose that I too have a dream…
…that one day…my generation will not concern themselves with what the world needs, but with what makes them come alive. Because ultimately, that is what the world needs: people who are alive. (With respect to Howard Thurman, whose quote this is.)
What makes YOU come alive? What are YOU passionate about?
—J